By Sally Friedman
No way was she going to win. No way!
So when Carol Saline's name was announced as winner of the National Magazine Award from the American Society of Magazine Editors, Saline confesses to emitting a most unprofessional shriek!
The indefatigable best selling author whose byline has become familiar to thousands of Delaware Valley readers in Philadelphia Magazine (where Saline is a senior Editor) walked away from the Walforf Astoria Hotel that day carrying with her a small creature known as "Ellie." While Ellie looks suspiciously like a "…coppery spider…" according to its new owner, it also carries with it the weight of professional acclaim and prestige.
"Sure, it can be very glamorous and exciting to be a magazine writer," concedes Carol Saline, who has written for almost every leading national publication from Redbook and Readers Digest, to McCalls and Family Circle in a journalism career that has been nothing short of spectacular. But Saline will also tell you that glamour and awards aside; it takes the old trinity of blood, sweat, and tears to polish that prose and to produce those prize-winning pieces. And it surely hasn't been easy, she will add, to walk that delicate tightrope between home and career.
"I delivered a manuscript and a baby with in days of each other," and there were years when I darted back and forth between Brownie meetings and the typewriter. When I stopped working full time to raise my kids, I was still freelancing, and feeling very conflicted. It was well before the women's movement lent its support, and people around me just smiled indulgently…"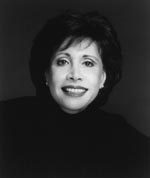 Those indulgent smiles ceased when Carol Saline, whose soul was first stained with printer's ink back at Camden High School and later at Syracuse University where she was Phi Beta Kappa English/Journalism major, proved that writing was more then just a light diversion for her. There were to be blockbuster stories for Philadelphia Magazine on mental illness, adult illiterates, incest, and the plight of the homeless. There were to be intimate and illuminating profiles of the likes of Beverly Sills, Pavarotti, and Peter Nero. And through it all, Carol Saline was still there to cheer on Sharon and Matthew at school plays and pep rallies.
When Saline did a piece on medical technology, she spent days-observing procedures in area operating rooms. " I knew NOTHING about the subject, and there was so much to learn!"
When the assignment was an exhaustive report, on Philadelphia's street people, Carol Saline roamed the city streets with a tough companion who knew the people in that nether world, and conducted a pre-dawn interview on a street vent!
Her work may catapult her from the opera to the operating room, from a fashion runaway to a runaway shelter, but Saline is always aware that in her arena, nothing is ordinary "I have an incredible wonderful life, a job that's continuously stimulating, and a chance to work for social change. The most wonderful mail I get begins with 'Because of what you wrote, my life has changed…"
So Saline goes into the prisons to talk to the alienated and the outcasts. She meets Pavarotti! -Yes- but she also meets the desperate people locked away into poverty and despair. Then does it all fall trippingly from the word processor?

"It's Sheer Agony sometimes. I write and re write - I do 20-30 interviews, sift through mountains of background reading, spend hours cutting an pasting my notes," explains the writer of the process outsiders often see as wildly and wonderfully creative.

When she's involved with a story, that story becomes part of her daily existence. "There is so much intensity in Magazine writing," says Saline, carefully choosing her words. "You never leave the work behind, because its always evolving and taking form. You wake up and there it is…"

Carol Saline may live with a "lead"- the opening sentences of a story- for a full week before words meet paper. She may revise and revamp and reshuffle for another week. And in the end, she insists, it's organization and research that produces results, not some magical, mystical union of writer and inspiration.

What, she is asked, has been the most meaningful in a career that spans nearly four decades, and has included the opportunity to hobnob with greats and neargreats?

Carol Saline doesn't miss a beat.

"It means just as much to me to stand in a church basement in North Philadelphia as appear on Oprah;" says the diminutive brunette with the admittedly high energy level. "And when I think I've managed to touch not just someone's head, but also their heart, that's the reward that's enough for me!"