Dr. Snow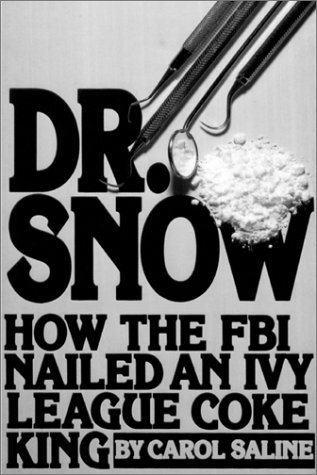 "A REAL-LIFE CAT-AND-MOUSE TALE THAT KEEPS THE PAGES TURNING." — KIRKUS REVIEWS
Featured on A & E's City Confidential and A Current Affair, this American classic that has thrilled readers for more than three decades.
This riveting, true-crime story — as exciting today as when it first appeared — tracks the operations of multimillion-dollar yuppie drug ring run by a 26-year-old dentist and two of his classmates. The three fell into drug dealing while college students as an easy way to make fast money and they soon learned to manage their underground enterprise as efficiently as any Fortune 500 firm. Awash in sex, drugs, and money, they built a 50-kilo-a-month cocaine conglomerate, buying and selling enough white powder to anesthetize 13 Eastern seaboard states. Until the FBI cracked the ring, its kingpin, Larry Lavin, a model husband and father, was earning more than a million bucks a year for his "services rendered."
Written with the full cooperation of the FBI, Dr. Snow follows all the gritty dynamics of federal police work, vividly dramatizing the plotting, the action, the traps, the escapes, the harrowing chases of both the hunted and the hunters. It is the most shocking and compulsively fascinating true-crime thriller you are ever likely to read.
Now available in both print and ebook formats with an added afterword that updates the sentencing and subsequent lives of the principal characters.
Buy the Dr. Snow paperback from buybooksontheweb.com
Buy the Dr. Snow ebook from the Amazon, Barnes & Noble, or Sony
Carol was interviewed as an expert on the Larry Lavin case for the documentary King of Coke:
---
Sisters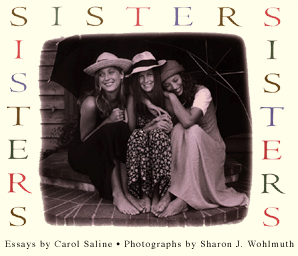 With its initial publication in 1994, Sisters struck a deep emotional chord in women throughout the United States, revealing in poignant photographs and sensitive essays the intensity of this special bond. In no way could the authors have imagined the effect this book would have as women took it into their homes and their hearts. Sisters went on to sell more than 1 million copies. Credited by Newsweek with "starting the trend on books about platonic female intimacy," this groundbreaking volume made publishing history by becoming the first photo-essay book to remain on the New York Times bestseller list for 63 weeks, spawning several accompanying collections of calendars, journals and appointment books.
This touching celebration of one of life's most precious relationships was featured on Oprah and excerpted in People magazine. It has become a beloved gift not only for sisters who want to express their deep appreciation for each other, but also for women hoping to heal the wounds of sibling rivalry.
Ten years after the initial publication, the authors created a revised SISTERS: Tenth Anniversary Edition (Running Press, October 2004). The anniversary edition features many new photographs and updates the lives of 13 sets of sisters from the book's original edition along with all of the originals. Never-before-seen outtakes from the original photographic shoot are also included.
As Saline writes in the introduction to the anniversary edition, "We were unprepared for how moving our reunions turned out to be. Each time the door opened and we embraced a sister who'd graced our book ten years ago, we were spiritually transported back to the intimacy of our earlier encounters … We were struck by how, in ten years, everything had changed — while nothing had changed at all." The unifying theme throughout the book is one of love and gratitude for the good fortune of having a sister for support.
Sisters: Tenth Anniversary Edition is an emotional catalyst for women everywhere to reflect upon their own changing lives and the enduring bonds that sisters share. A sister is a forever friend!
Buy Sisters at Amazon
---
Mothers & Daughters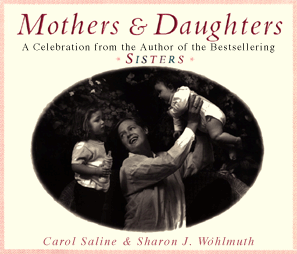 The intense emotional connection shared by mothers and daughters is the subject of Saline and Wohlmuth's second book in their relationship trilogy: Mothers & Daughters. Published by Doubleday in 1997, it immediately soared to number one on every national bestseller list: the New York Times, USA Today, The Wall Street Journal, and Publisher's Weekly.
The bond between a mother and daughter stretches, bends, knots and twists but it never, ever breaks. This is a relationship awe-inspiring in its power, depth and complexity. The deeply personal yet surprisingly universal stories portrayed here take us from birth to death, from unconditional love to unresolved bickering and everything in between. Sharing their very private feelings are such public people as Cindy Crawford, Justice Ruth Bader Ginsburg, Margaret Atwood, Patti Austin, Lynn Redgrave, Cokie Roberts, Cathy Guisewite, Janet Leigh and Jamie Lee Curtis.
There is also great wisdom to be found in the words of lesser known families such as a 96-year-old great-grandmother and her nine daughters, a mother and daughter who fled the war in Bosnia for an uncertain future in America, a woman who received a kidney transplant as a last gift from her dying mother, a lesbian couple and their daughter, and a woman who had her first born daughter at age 52.
Every woman is a daughter.
Buy Mothers & Daughters at Amazon
---
Best Friends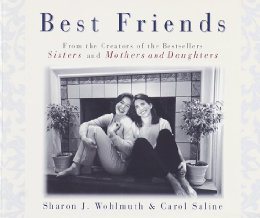 If relatives are the family we are born with, friends are the family we choose. Best Friends captures the essence of the ties that can bind ever tighter than blood. These are the special people in our lives who celebrate our happiness, cushion our pain and love us not because they have to, but because they want to. The friendships celebrated in cut across barriers of age, race, gender and religion and include men as well as women. In the diverse group of 35 powerful essays and sensitive photographs you will meet childhood girlfriends, Holocaust survivors, Vietnam war buddies, a successful novelist whose best friend is a nun and five men who've been inseparable pals for 75 years. We discover how friends meet, how they sometimes fight, how they reconcile and what it is that keeps them close over a lifetime.
You will also get up close and personal with a group of celebrities — Jennifer Aniston, Kevin Bacon, Angela Bassett, Naomi Judd, Larry King, Patti LaBelle, Andrea Mitchell, Morrie Schwartz, Kerri Strug, Gay Talese and John Hockenberry — who reveal their intense friendships with people who would love them even if they weren't famous.
his book is a beautiful tribute to a critically important relationship and a perfect birthday or anniversary gift for anyone who has ever had a best friend.
The Perfect Bridal Gift: Stuck for an Idea of what to give your bridesmaids and groomsmen? A copy of Best Friends is a lasting and precious memento that will always remind them of their special role in your wedding. And to make it more meaningful, the author will personally inscribe and sign each copy.
Best Friends is available at a discounted price only through the author. To order autographed copies, please email Carol.
---
A Day in the Life of the American Woman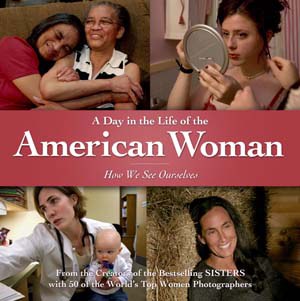 On April 8, 2005, women across the United States woke to find their lives being documented as part of a quest to find out who is the American woman is today. Across state and city borders, lines imparted by color and religion, a unifying message was found: Now more than ever, the American woman is nobody's woman but her own.
A DAY IN THE LIFE OF THE AMERICAN WOMAN (Bulfinch Press; October 2005) by Sharon Wohlmuth, Carol Saline, and Dawn Sheggeby, portrays women from all walks of life and all corners of the country captured living their lives on a single day. A major logistical undertaking involving over 50 of the nation's top female photographers (among them 11 Pulitzer Prize winners) and scores of subjects, the range of experiences showcased in this book is illuminating and will resonate with women everywhere. At once a document of diversity and change, the book also reflects how women and their needs are connected throughout the nation.
A Day in the Life of the American Woman is a visually compelling book with emotionally charged essays. Far from showing what divides women in the United States, it convincingly unites them as sisters, with common goals, hopes, and dreams.
Buy A Day in the Life of the American Woman at Amazon